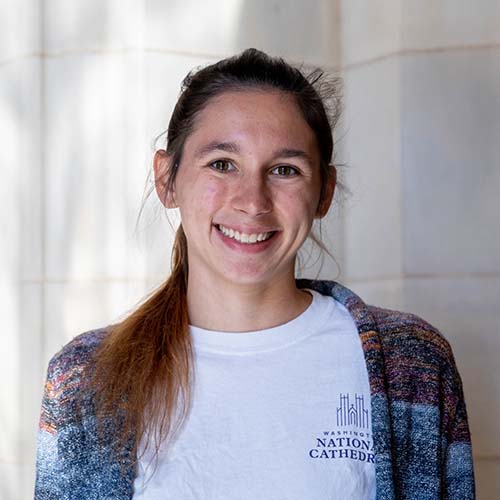 Beatrice Dalov
---
Degree: Bachelor of Arts in Music with a minor in Sacred Music
College: College of Communication, Architecture + The Arts, Herbert and Nicole Wertheim School of Music and Performing Arts
Beatrice Dalov was the first of her family to be born in America, the child of Bulgarian immigrants who had escaped Communism. At the age of 10, her family returned to Bulgaria where her ailing father later died, forcing her mother to care for her and her siblings alone.  
Beatrice quickly learned Bulgarian, enriched herself in the culture she had never known and began her piano studies at the National High School for the Performing Arts while working to help support her family. After her family resettled in Florida, Beatrice was accepted into a local performing arts school and continued to teach piano to help make ends meet.  
Inspired by hearing Jose Lopez and Kemal Gekic perform at the FIU Liszt Society Festival, she came to FIU as a piano major. A 4.0 GPA student, Beatrice became interested in Musicology and completed a 169-page Honors College thesis under the guidance of David Dolata, which led to her representing FIU in several national and international conference presentations. She also served as the Music History Learning Assistant and is the recipient of the Presidential Scholarship.  
After an internship at the Washington National Cathedral, Beatrice was hired as the Concert and Operations Manager for the Washington National Cathedral Music Ministry, making her the youngest member of the Cathedral's large staff. Her many responsibilities include arranging and staffing musical events, managing the music library, creating programs, and writing program notes. Beatrice also takes care of her younger sister who now lives with her in Washington.  
Beatrice credits her success to the strength and tenacity of her mother, who, despite the disadvantages of being a single mother and raising three children, she went through great strides to make sure that Beatrice was exposed professionally and academically to the very best.   
As she reflects on her time at FIU, Beatrice recalls the many times the university stepped in to support, mentor and help refine her interests.  
By Heather Radi-Bermudez, 
Director, Office of Strategic Communication + Public Relations 
Assistant Teaching Professor, Department of Communication 
College of Communication, Architecture + The Arts