Dear Graduates,
Last week we sent an email announcing that we are hosting a Commencement Caravan & Commencement Fair. We are so excited to celebrate your accomplishments. Our team has been working tirelessly to make sure you have a Commencement experience you deserve while following the mandates from the Florida Board of Governors.
We are pleased to announce we are hosting a Commencement Caravan & Commencement Fair on Friday, November 20th from 10:30 a.m. – 4:30 p.m. The Caravan will take place between the Blue and Gold Garages on the east side of campus, with the Fair located in Parking Lot 3 by the SASC building. Please note both are voluntary, but you will have a chance to purchase regalia, grad gear, a class ring, take a complimentary portrait with GradImages, and see how you can get involved with the Alumni Association.
You must register for a timeslot in order to attend. Reservations will be booked on a first come, first served basis, and are limited due to safety protocols.
*This event is only for eligible Fall 2020 graduates.* You may register here. Registration will close at 3 p.m. on November 18th.
Below are two versions of the map that shows where the Caravan & Commencement Fair will take place.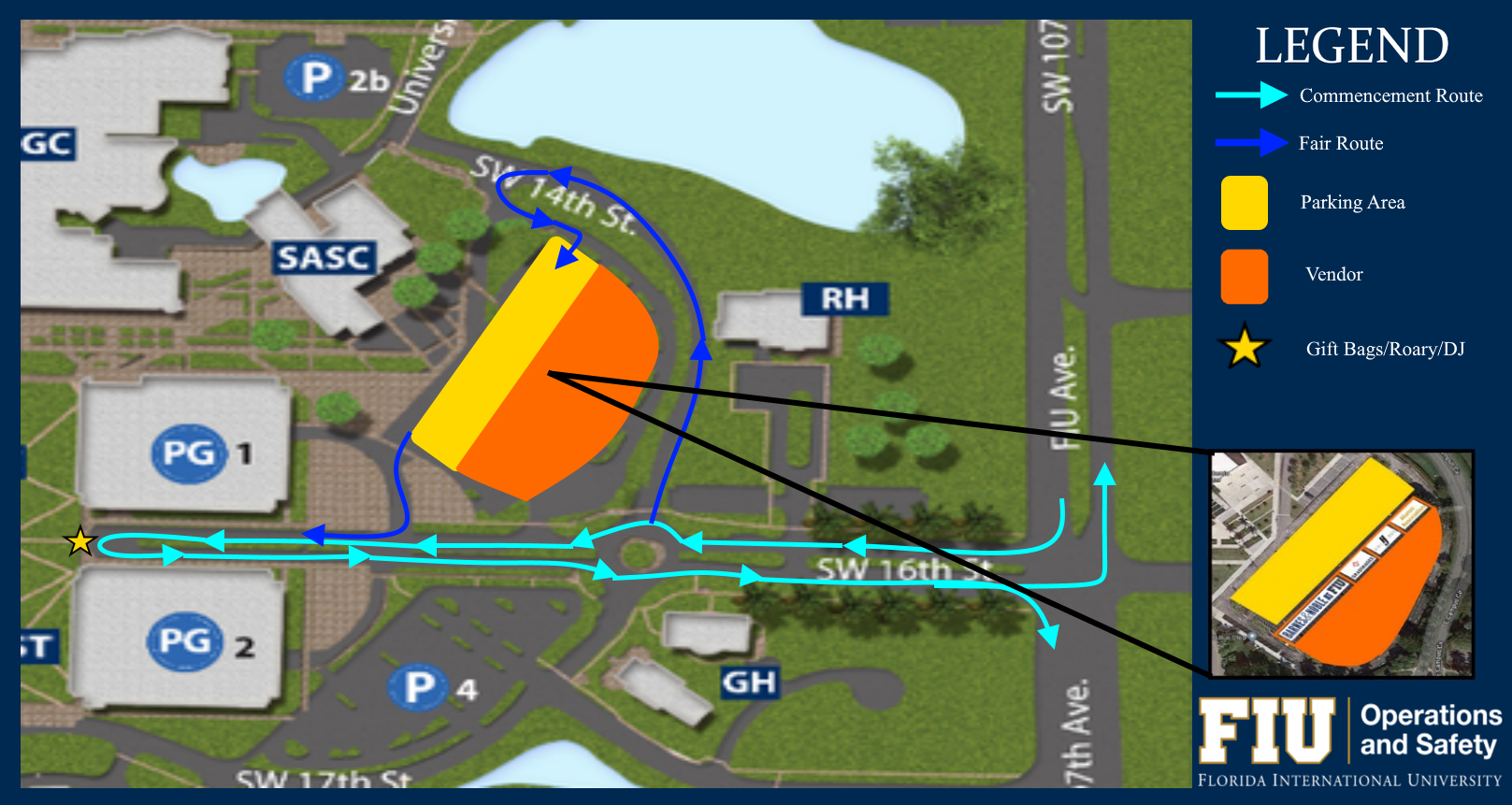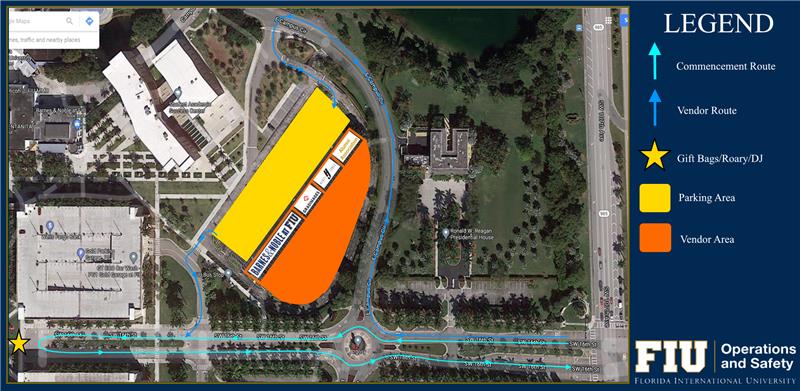 During the caravan portion, you will get the opportunity to get out of your car once by the stage, to then take your grad walk across the stage, and get a congratulatory diploma from Roary while taking a socially distant photo, and being cheered on by President Rosenberg.
There will also be prizes for the 1st, 2nd, and 3rd place winners of the car decorating competition! Make sure to decorate your vehicles and show your Panther Pride! 
Below are important instructions for the event. We ask that you please read through it carefully. 
Instructions
Masks must be worn at all times
Maintain social distancing at all times
Must arrive at your designated time slot
ONLY THE GRADUATE WILL BE ALLOWED OUT OF THE CAR, and only to walk across the stage
In order to walk across the stage for photo-op with Roary, you must have a designated driver

No unattended vehicles will be permitted

Please make sure to follow the signage on stage

The President will not be taking pictures with the Graduates. He will be on stage to show support and cheer you on from a safe distance.
Roary will give you a congratulatory diploma on stage for the socially distant photo-op
You will receive a gift bag when exiting the stage

Photographer will be on site to take your photo on stage with Roary

The photo will be made available for you to download approximately 48-72 hours after the event
You may have a family member film you walking across the stage from the vehicle

Regalia is not required, but strongly encouraged for the photo/video to be featured in the virtual ceremony. IF you buy:

You must purchase your own prior to participating in the caravan
You must purchase certified FIU regalia from Barnes & Noble/Herff Jones only
You can purchase regalia at the Barnes & Noble Bookstore (recommended)
Or at the Commencement Fair which will happen in conjunction with the caravan on November 20th

Commencement Fair will include Barnes & Noble, Herff Jones, GradImages, and Alumni Association.

Barnes & Noble – Purchase regalia, grad gear, and other FIU memorabilia
Herff Jones – Purchase Class Ring
GradImages – Take a free graduation portrait

Please note, you must purchase regalia in order to take the free portrait

Alumni Association – Find out how you can stay connected with FIU as alumni

Show your excitement and panther pride by decorating your car!

First Place Winner – Herff Jones Class Ring
Second Place Winner – Diploma Frame
Third Place Winner – Rep FIU Box
Photos that can be used as examples for decorating car contest:
We look forward to celebrating you on this special day!

Regards,
The Commencement Team